Virutcham Microfinance Limited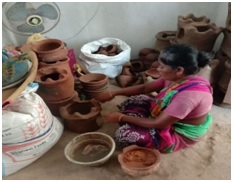 Mrs. Valarmathi a widow and daily wage earner is from the village of Kadavachery in Cuddalore district.  She has two children and the wage she earned was not regular and was not enough to meet the family expenses. She joined Kadvachery 5 Joint Liability Group by knowing the microfinance programme of VML through one of her friend. She obtained a loan of INR 30,000 and used the money for mud pot making business.  Now she gets a regular income of more than INR 8,000 per month. She pays the EMI amount of INR 2,000 regularly and uses the remaining amount for the family expenses and the educational expenses of her children.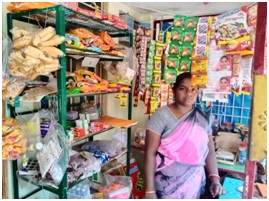 Mrs. Sudha is living with her children and husband in a village called Keelakarai in Cuddalore District.  Sudha and her husband Ravi are daily wage earners without regular income.  She obtained a loan amount of INR 30,000 through a Joint Liability Group of VML which was started in her village; and used the money for opening a small grocery shop in her village.  She earns net income of about Rs.500 per day.  It is an additional income to the family.  She repays the loan EMI regularly and utilizing the remaining money for the educational expenses of her children and the household expenses. She is happy about the new opportunity to develop further in her life.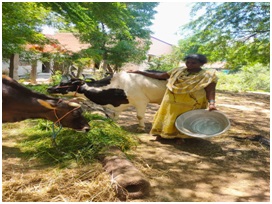 Mrs. Kaleeswari is from Pillayarnatham village in Madurai District in Tamilnadu.  Her husband is working as a server in a hotel.  Her two children are attending primary schools.  She purchased two milch cows by obtaining loan from VML, two times. First time she purchased a cow with a loan amount of INR 30,000.  She availed 2nd time a loan amount of INR 50,000 after fully repaying the 1st loan.  She purchased a second cow with the 2nd loan amount.  She earns a net income of around INR 600 every day after meeting all expenses.  She promptly repays the loan EMI every month and takes care of her family expenses.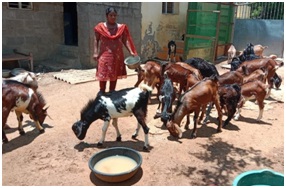 Mrs. Saraswathi is from Sivanthakulam Village in Thoothukudi District in Tamil Nadu.  She and her husband are landless agricultural laborers.  They wanted to rear goats to supplement their income.  She availed a loan amount of INR 30,000 in VML.  She purchased 6 goats and a ram with the loan amount.  They yielded 6 more goats.  They have more than 20 goats.  They sell the rams for meat and a ram costs around INR 8,000. With this income, she regularly repays the loan installment and is also able to meet all her family expenses.
Mrs. Jeyanthi is from Kumarakoil village in Kanyakumari.  Her husband is a local photographer. Being educated, Jeyanthi tried to join a job but she didn't get.  She thought of starting a photocopying business as there is a College nearby her house. She approached VML for loan.  She formed a Joint Liability Group with 8 members who were in want of loan for economic activities and availed loan of INR 30,000 each. Mrs. Jeyanthi purchased a photocopier machine with the loan amount and later purchased a computer from the earnings of photocopier shop.  She is getting more than INR 500 per day; So she is able to meet the family expenses with this additional income.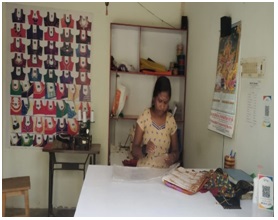 Mrs. Sweety is from Pattabiram Village in Tiruvallur District.  She along with her husband started a tailoring shop with loan amount of INR 30,000 received from VML.  She is skilled in designing blouses for women.  The couples earn more than INR 10,000 from the business.  They repay the loan EMI and the income is enough for them to meet the house hold expenses.